Celebrate those special moments in life, whether it's your best friend landing their dream job or a loved one welcoming a new member into their family. Don't let the opportunity pass you by to make their day unforgettable!

Thinking of gift ideas can be overwhelming, but what if we told you th[...]
Add To Cart
Add 8 Balloons for $42.95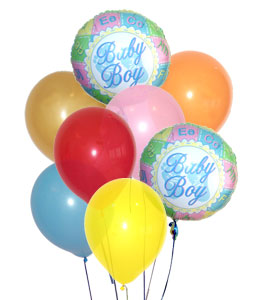 Celebrate those special moments in life, whether it's your best friend landing their dream job or a loved one welcoming a new member into their family. Don't let the opportunity pass you by to make their day unforgettable!

Thinking of gift ideas can be overwhelming, but what if we told you th[...]
Celebrate those special moments in life, whether it's your best friend landing their dream job or a loved one welcoming a new member into their family. Don't let the opportunity pass you by to make their day unforgettable!

Thinking of gift ideas can be overwhelming, but what if we told you th[...]
Celebrate those special moments in life, whether it's your best friend landing their dream job or a loved one welcoming a new member into their family. Don't let the opportunity pass you by to make their day unforgettable!

Thinking of gift ideas can be overwhelming, but what if we told you there's a simple solution that fits all occasions? It is true!

A stunning bouquet of flowers is the easiest and most effective way to make someone feel special on their special day.

Our Free Spirit Bouquet is the perfect way to celebrate life's precious moments and strengthen your relationships. With its calming shades of blue and purple, this arrangement includes irises, lavender static, lavender daisies, green button poms, and lush greens, all presented in a clear glass vase.

Whether you want to express your gratitude, show someone you're thinking of them, or congratulate them on a milestone, the Free Spirit Bouquet helps you convey your emotions when words fall short.

This affordable gift won't break the bank, and you can even add eight balloons to the package to make it a complete experience. Don't miss the chance to make someone's special day even more memorable with the Free Spirit Bouquet!
Item No. B14
Price: $69.95